Everything you need to know about what waist trainers do, how to use waist trainers, which styles to wear and how to get the curves you've always wanted.
WHAT IS A WAIST TRAINER?
Let's start with the basics: what is a waist trainer? A waist trainer is a high-compression shaping garment that you wear around your midsection to slim your waistline instantly and supplement your fitness goals. Most waist trainers stimulate thermal activity in your core, making you sweat more with less effort during exercise. Waist trainer benefits include a more effective workout, improved posture, and dramatic hourglass curves—instantly.
WHAT IS WAIST TRAINING?
When worn daily, a waist trainer—along with proper diet and exercise—can help you stay motivated and confident on your waist slimming journey. In this waist training guide, we'll explain exactly how to do it, so you rock your new curves right away.
IS WAIST TRAINING RIGHT FOR ME?
You don't have to be a Kardashian to get amazing new curves from corset training. Anybody can achieve a skinnier waist by wearing a corset. And by choosing the right garment for your body shape, you can ensure your waist trainer will always be comfortable on your body. It's all about finding the right material and the right fit. We're here to help.
DO WAIST TRAINERS REALLY WORK?
The effects of wearing a waist trainer are instant. You'll look 1, 2 or even 3 sizes smaller as soon as you put on the garment. Waist training is also a great way to supplement the long-term slimming goals from your fitness routine. Does it work? See for yourself based on these incredible Waist Training Results, including waist training before and after photos from our customers.
BEFORE & AFTER TRANSFORMATIONS
Does waist training work? Don't just take our word for it – check out these amazing results from real customers who were able to transform their figures using a daily waist training regimen. Below, you'll also find simple tips for finding the right waist trainer for your body.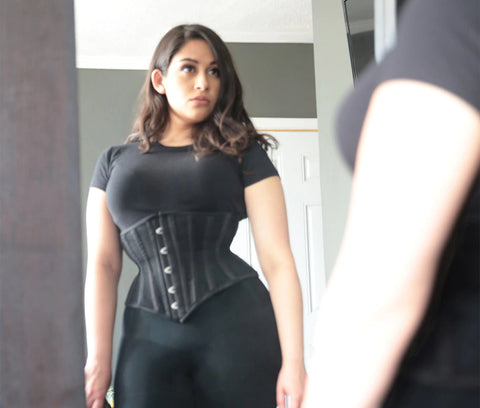 ALL ABOUT RESULTS
HOW SOON WILL YOU SEE WAIST TRAINING RESULTS?
The beauty of waist training is that the slimming and posture correction is instant! If you're trying waist training to supplement a fitness routine, results vary widely depending on your fitness level, when you start, how dedicated you are to your waist training regimen, your diet and exercise, and even your genetics. Our recommendation: keep going! Stick with it long enough and you could see some dramatic results in the mirror sooner than you think.
HOW TO GET THE BEST RESULTS
Waist training is most effective when used as part of an all-around healthy lifestyle. To ensure that you are getting the best results and tracking your progress you should:
Take photos of your progress.
Stay hydrated.
Follow a fitness routine that includes cardio & strength training.
Eat small, nutritious meals throughout the day.
Once you've worked up to it, wear your waist trainer 8–10 hours a day.
DIET RECOMMENDATIONS
When eating, wearing a waist trainer may make you feel fuller faster, thus making your portions smaller – so it's important to pack each meal with the nutrients your body craves. We don't recommend "going on a diet," because that generally doesn't teach you to make a permanent adjustment in your lifestyle to better your health. Instead, you can use a cleanse to jumpstart your lifestyle change. After that, stick to whole, unprocessed foods that give you energy and make you feel good!
WORKOUT TIPS
Wearing a sexy workout waist band can be very motivating, so make the most of your workouts. It's important to mix different levels of cardio intensity with strength training to make those core muscles stronger in your fitness journey.
WHAT TO EXPECT WHEN YOUR START
If you're new to waist training, you might have some surprises! Here's what is totally normal but perhaps unexpected:
Waist trainers are difficult to put on the first time (it gets easier)
In the beginning, you can only wear your waist trainer for a few hours at a time.
You may notice fast results.
You will be less likely to overeat.
You'll wonder how you ever dressed without one!
Here are a few more unexpected surprises you might experience once you start corset waist training regularly.
WHEN TO WEAR
How do you waist train when you're busy all day? Simple: you can wear a waist trainer just about anywhere, with almost any outfit! Since there are many different styles to choose from, you can select your cincher based on the clothing you want to pair them with.
STYLING SUGGESTIONS
For everyday wear, choose a color that you can conceal under your clothing. You may also want to choose a seamless option under clothing that is very thin or tight. Did you know waist trainers pair well with several other types of shapers? We love the full effect of using a cincher along with shaping leggings or butt-enhancing shapers. Waist training is an excellent choice for the professional woman for several reasons. It improves your posture, which can be hugely beneficial if you sit or stand for long ours. It can also boost your confidence and ensure that you look your best in every single outfit. It helps lay a great foundation for blouses, slacks and skirts.
SLEEPING IN YOUR WAIST TRAINER
This isn't a common practice but waist training can be done! If you choose this option we recommend a no-closure cincher for comfort at night. Be sure to rotate waist trainers through your wardrobe so that they can rest and be washed.
May 20, 2020

Category:

News
Comments: 0